Imagine a backpack that can wirelessly recharge its built-in battery pack when you're home and charges your gear when you're on the go, one that gently alerts you if you accidentally leave it open while walking around, locks all key zippers at the push of a single button, keeps your info secure with RFID-shielded pockets, even acts as your camera mount when you want to take a picture; and, looks sleek and beautiful in your choice of great colors and so many thoughtful features.
Now stop imagining it — and help us bring Barracuda Konzu to market and be one of the first to get this state-of-the-art backpack an an unbelievable price.
From the creators of the ground breaking Barracuda Carry-on that raised 1.7 million in Crowdfunding - Konzu: The World's Most Advanced Backpack.

These days, you'd expect any smart backpack to come with a built-in battery pack, and Barracuda Konzu is no exception. What's revolutionary is that ours can be wirelessly charged. Simply place Konzu on its patent-pending wireless charging stand, and top up Konzu's 10,000 mAh battery pack — without meddling with messy wires. You can even leave your tablet or phone inside the bag plugged into Konzu's internal USB port to charge it along with the battery pack.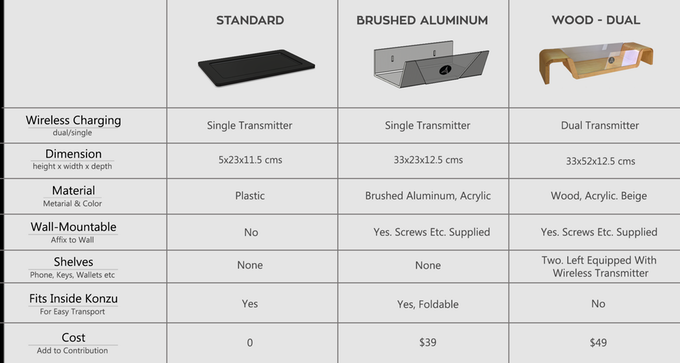 All three version of the charging station will charge Konzu's built-in 10,000 mAh battery fully in 8 - 10 hours. Leaving your tablet or phone plugged in inside Konzu could increase the time by 2 - 4 hours depending on the battery capacity of the device left inside.
The Premium Wood-Dual Charging station will, in addition, be equipped with a transmitter on its left shelf that can charge a Qi compatible device (or one with a Qi compatible case) in 8 - 10 hours.
One Standard Wireless Charging Station will ship with every Konzu.
To upgrade that to a Premium Brushed Aluminum/Wood stand add $39/$49 to your contribution for each Konzu in your reward you wish to upgrade.
If you need more than one charging station (home/office) add $19/$49/$59 to your contribution depending on the model as shown in the table above for each additional charging station.
The battery pack is removable & interchangeable. It can be charged directly via USB like other battery packs. Carrying Konzu with its battery pack into an airplane would be no different from carrying an ordinary battery pack.
* Patents Pending

Barracuda Konzu's revolutionary Push-2-Lock system is the ultimate solution to pickpockets. Without compromising on usability with awkward hidden zippers or having to individually lock each zipper — Konzu's 4 external zippers (2 main and 2 pockets) can be secured with the push of a single button on the strap.
The lock can be engaged with zipper pullers in any position with no power source required. Pressing down/up the lock will instantly lock/unlock the zippers in any position. It only seems like magic.
* Patents Pending

Ever find you've been walking with an open bag, just ripe for pickpocketing? Barracuda Konzu takes smart to a whole new level with integrated sensors that detect and alert you if you walk off with your bag open. Along with our Push-2-Lock system, this provides two-factor protection when you're on the move.
* Patents Pending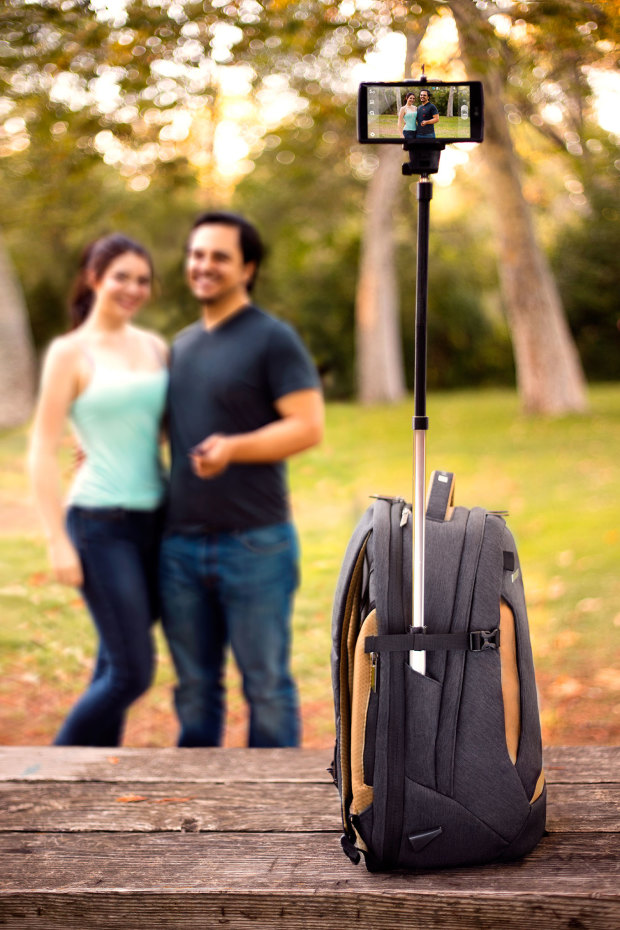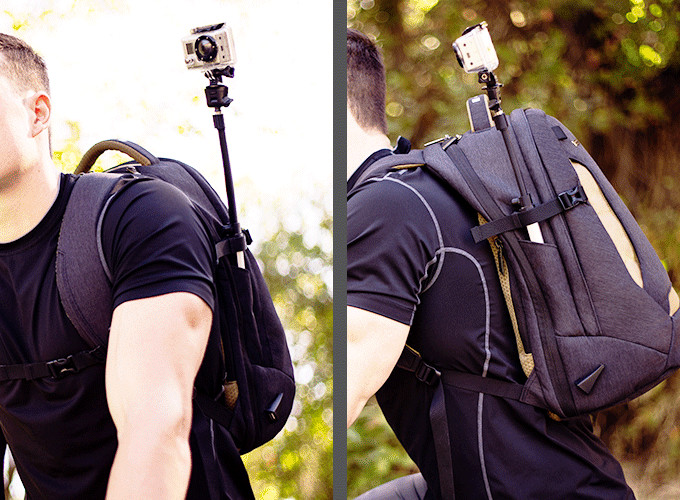 The camera mount monopod attaches securely to an adaptor affixed to the bottom of the backpack, making it very stable. In addition to taking a selfie or a group (a "groupie"?) you can attach a GoPro and capture all the action on a hike or bike ride with ease.
The camera mount includes: A telescoping adjustable stand, attachments for phone/camera (like GoPro), adaptor affixed to the backpack into which the stand docks and a bluetooth clicker that works with Android and iOS.
To get this camera mount accessory add $29 to your pledge.
* Patents Pending

Open every door in style—without ever misplacing your keys again. A perfectly located key pocket and heavy-duty retractable cord. This will also work well with scan cards and key fobs to get in and out of secured doors.
* Patents Pending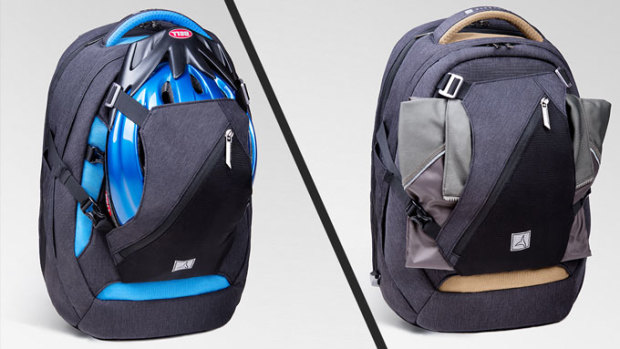 Need a place to stash that windbreaker or bike helmet, and there's no more room in the backpack? No worries. Our expandable strap system gives you the extra little bit of storage you need to get your go on, in style.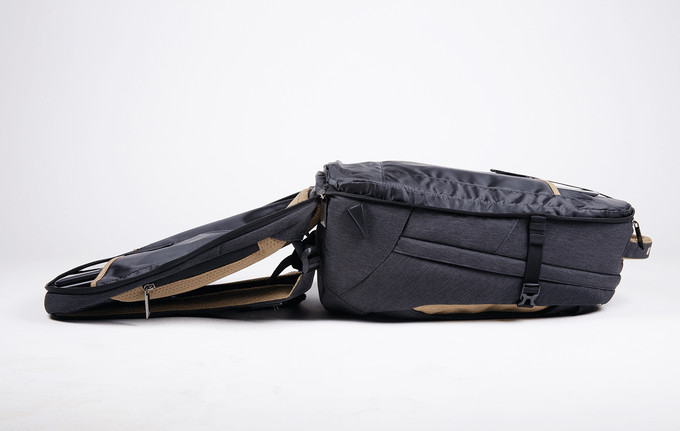 That's right. Hit the security line without having to dig out your laptop and throw it in a tray. Just unzip the TSA-approved laptop sleeve and your Konzu conquers the conveyor belt with everything intact and ready to zip up and go.
This section has two pockets, on the left for the laptop and the right for a tablet. The laptop pocket can fit a laptop up 17" in size.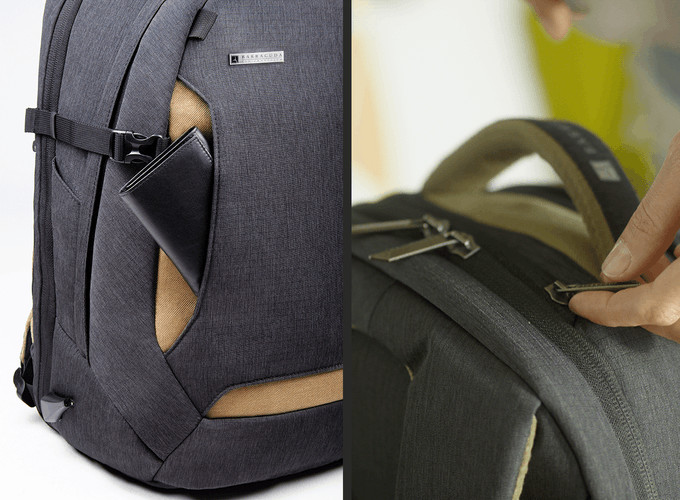 Skimmers can scram. The Konzu's RFID-shielded pockets keep your personal data safe and secure. No breach at the beach. No treachery on the morning train.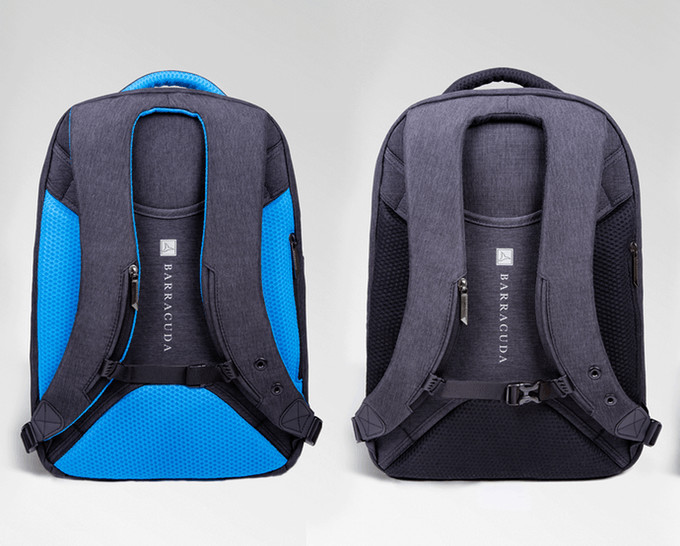 Who says you have to sacrifice style for comfort? Not Konzu, which comes with padding that makes even the heaviest of backpack loads a breeze. Konzu's pads are also designed to maximize airflow to keep your back cool and comfortable. You'll wish everything in life came with padding like this.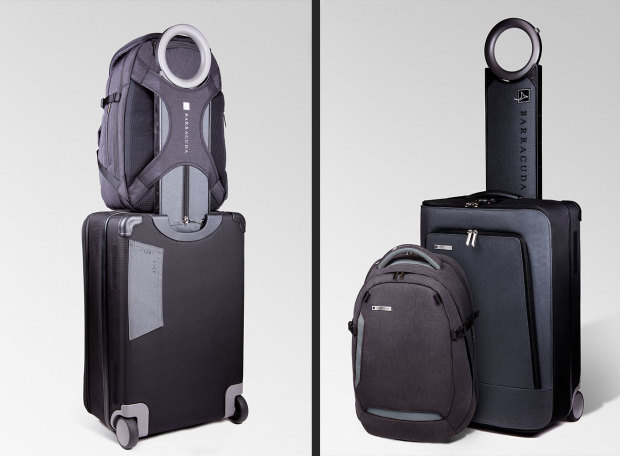 The backpack can easily be attached to the handle of a carry-on —especially if you have a Barracuda carry-on.

"Everything is designed. Few things are designed well. – Brian Reed."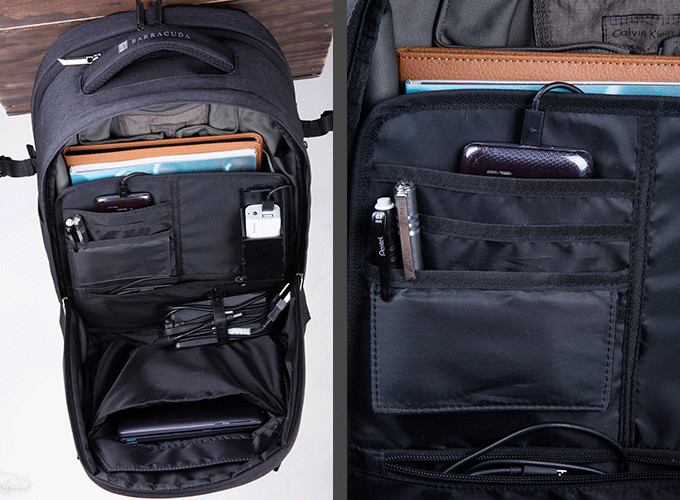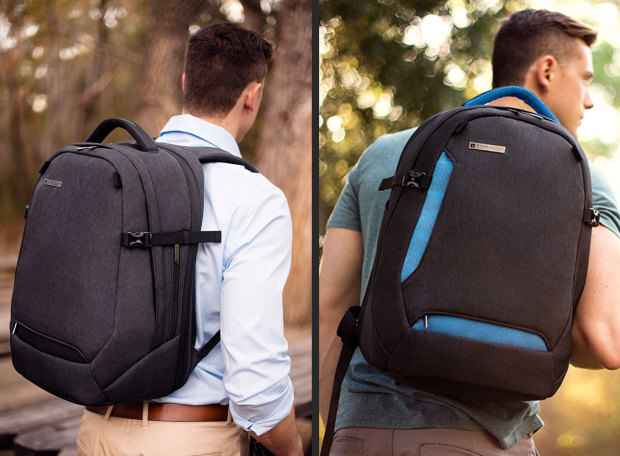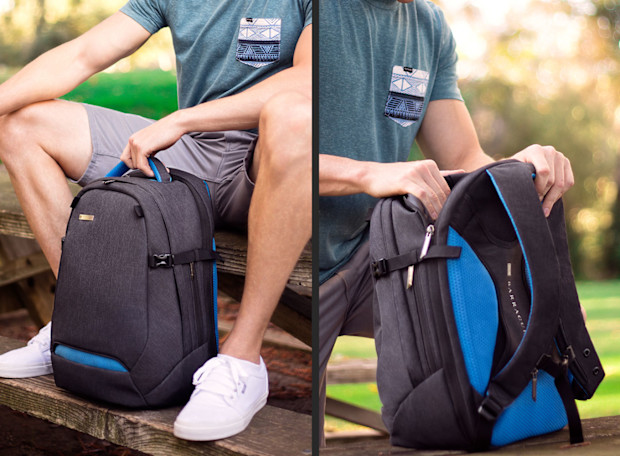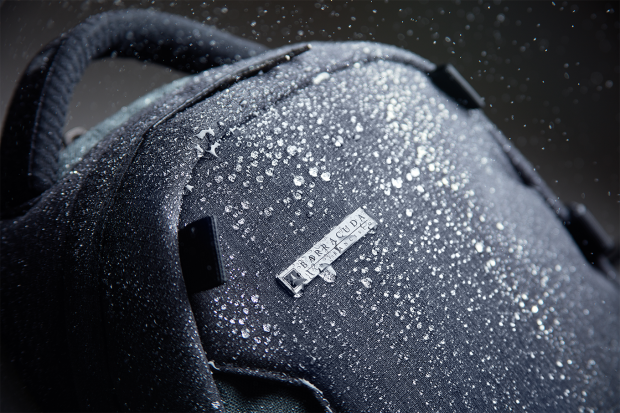 Advanced water resistant lightweight fabric and covered zippers keep the inside dry.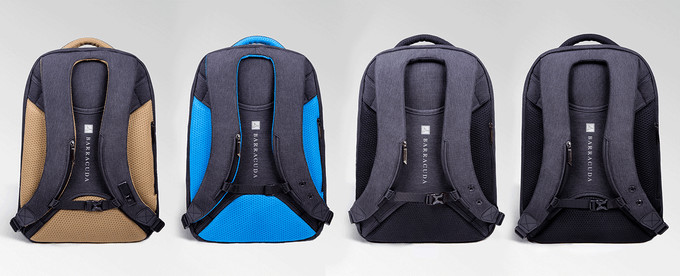 We didn't just want to design another backpack or just throw in a battery pack and call it smart. We set out to design THE backpack, a backpack like no other and we think we have succeeded. Now help us get it to market and get yourself this most amazing backpack at an equally amazing price.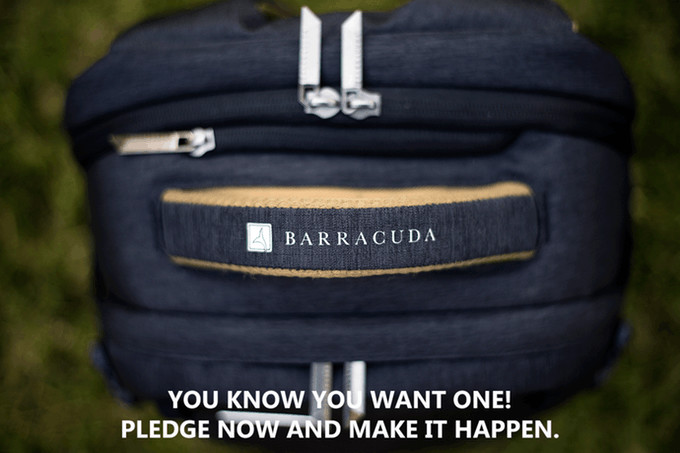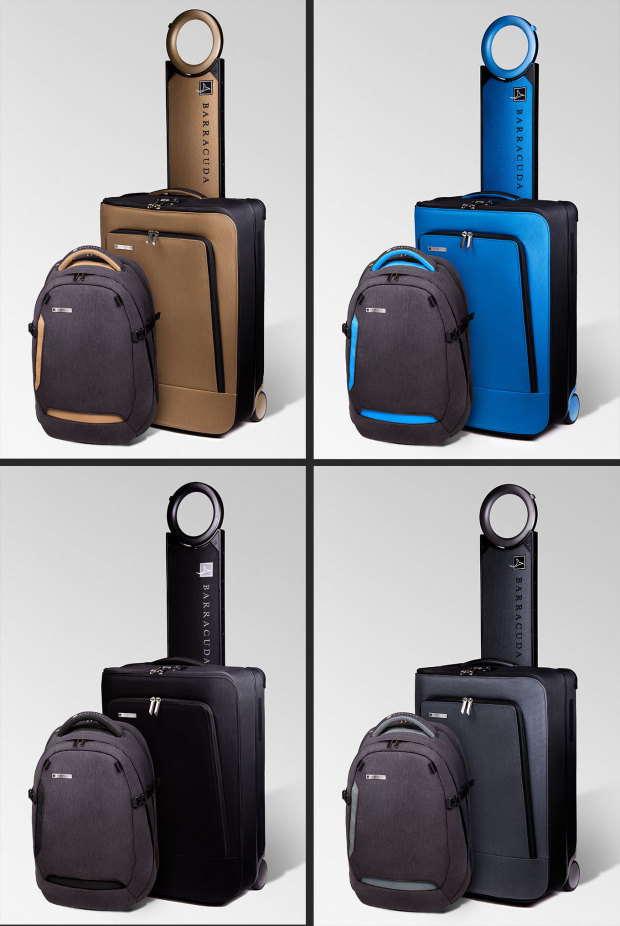 The Barracuda Carry-on is smart collapsible carry-on that backers like you helped bring to market. The carry-on is packed with cutting edge features like a built-in laptop tray and ergonomic handle. Learn more at https://barracuda.co/. Travel in style like never before.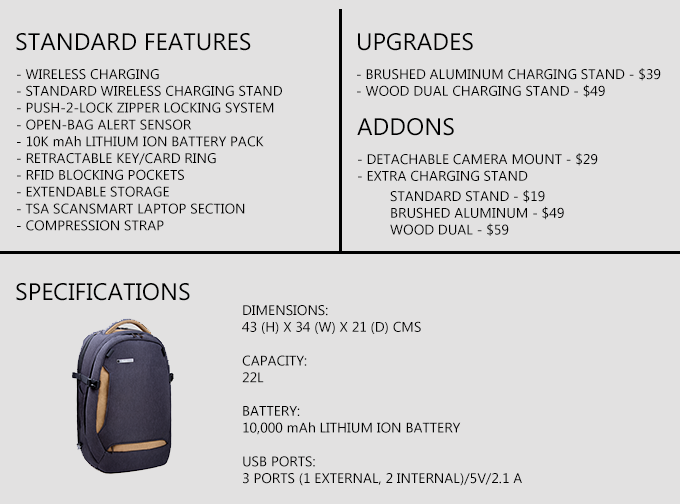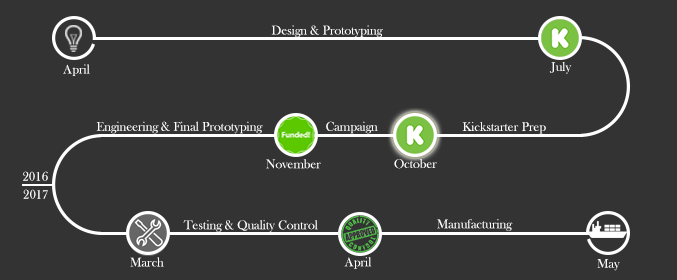 Some might correctly point out that we had published a timeline like this for our last campaign and we were delayed by over 10 months in shipping out the rewards. We have come a long way since then. The company was a garage startup started by silicon valley software engineers with little experience in the complexities of manufacturing and shipping real world products. But now having manufactured and shipped thousands of products across the world we are far more capable of staying on schedule. This is not to say that we might not run into technical difficulties developing this fairly complex and cutting edge product. We are confident in our abilities to deal with delays and minimize their impact.
As you may notice, the current prototypes featured in this campaign are already of high quality developed in partnership with a top manufacturer, a far cry from the garage made prototype of our previous campaign.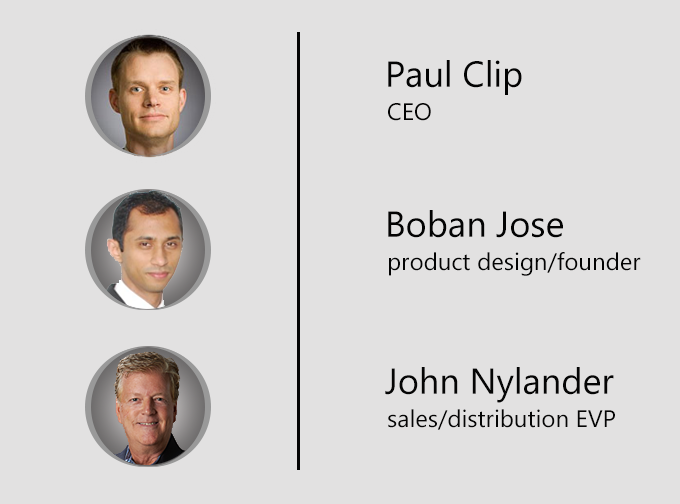 We are Barracuda. We have a passion for creating products that push the outer edge of imagination. We design products that blend cutting edge technology with innovative design. We strive to create products that make its peers obsolete. Help us bring Konzu: The World's Most Advanced Backpack to market.